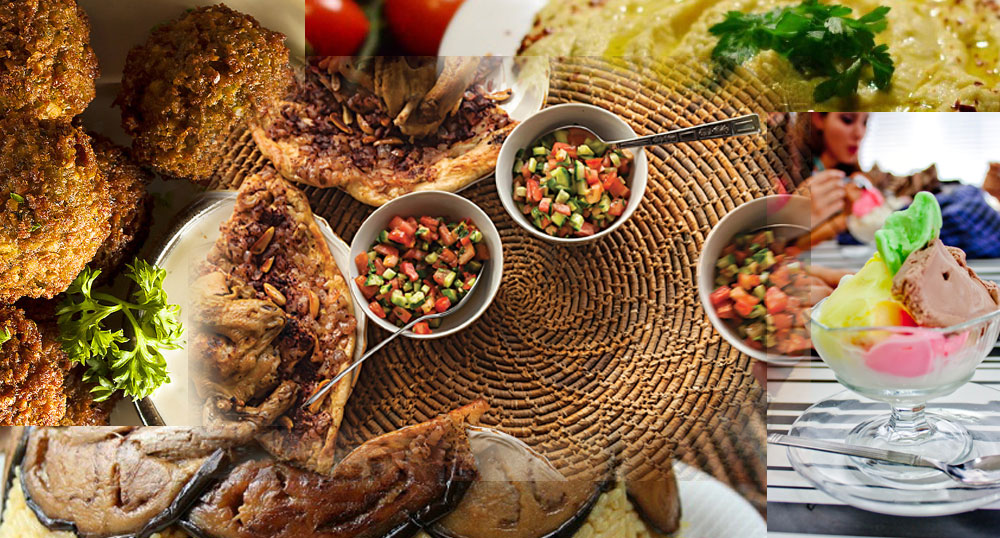 As a cultural hub in Palestine, Ramallah is home to a wide array of traditional and international cuisines. Visitors are encouraged to try the popular, local dishes such as mansaf and musakhan but can also find a variety of other international dishes in restaurants throughout the city. No visit is complete without trying some of the Palestinian street food such as falafel, hummus, and shawerma sandwiches available on almost every corner of the city. For some variety, get a "mezze", an assortment of varied dips and salads, including the famous hummus – mashed chickpeas mixed with tahini and olive oil – best savored with pita bread. For those who want to broaden their palette, numerous restaurants offer excellent Middle Eastern cuisine, as well as western food, such as pizza, pasta, burgers, and even excellent fish and chips.
A traditional meal must be followed by trying some local desserts. Knafeh, a sweet-cheese dish, is a special favorite in Palestine, as are mutabaq, mabroume, and qishta. While not exactly traditional, Ramallah's manually churned ice cream has become a famous treat. The local ice cream is soft and rich in flavor, making it a perfect addition to your sightseeing on a hot summer day.
Local food not to be missed:
• Mansaf - Lamb cooked in a yoghurt based broth and served with rice or bulgur.
• Maqluba – Literally translated as "upside-down", this dish is prepared with fried vegetables, typically cauliflower, eggplants and sometimes potato, meat (chicken/lamb) and rice. The name comes from the unique way in which it is served with the dish being flipped "upside-down" before eating.
• Msakhan - Large taboon bread topped with sumac, onions, pepper, chicken, and nuts.
• Kaftab'thine - Meat balls cooked with tahini or tomato sauce with potatoes and served with bread or rice.
• Shorabetfreekeh – A grain based soup, usually with chicken.
• Waraq 'enab - Rice and minced meat rolled in grape leaves.
• Maftul - Large couscous-like balls, garbanzo beans and chicken pieces cooked in chicken broth.
Street food:
• Falafel (could be served by itself or in a sandwich) - Fried hummus, spice and parsley ball.
• Shawerma - Pita bread roll of meat, tahini and various vegetables.
Sweets:
• Knafeh - Cheese pastry soaked in sweet sugar-based syrup.
• Baklava - Sweet pastry made of layers of filo.
• Qatayef - Sweet dumpling filled with cream, sweetened cheese or nuts.