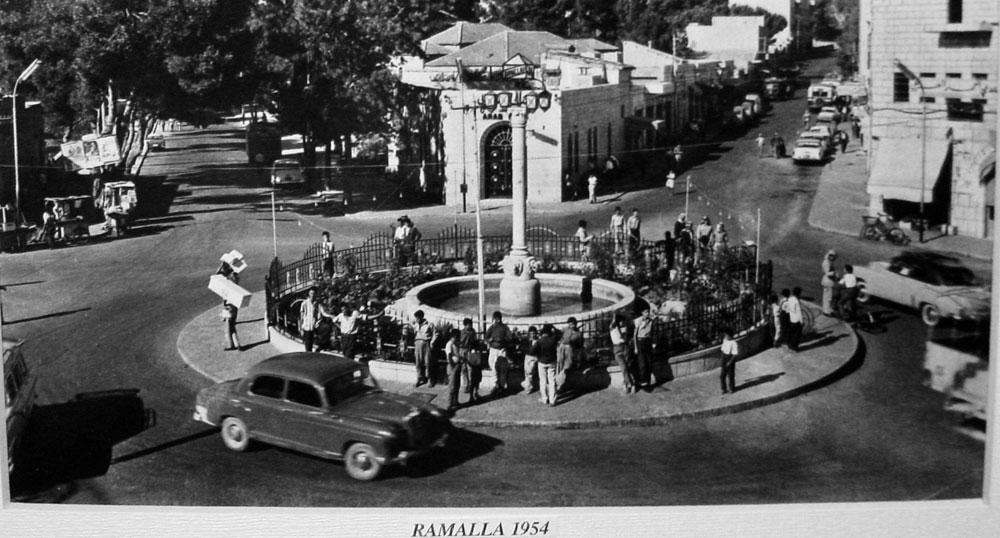 With a history that reaches as far back as the 16th Century, Ramallah has deep roots in the region. Historical records tell of the story of Rashed al-Haddadin who arrived in Ramallah with his family after a feud forced him to leave Jordan. After learning of the death of his rival, RashedHaddadin returned to Jordan, leaving his five sons, Yousef, Awwad, Issa, Khalid, and Azeez whose families were to become the founding families and clans of Ramallah. The city continued to grow and in 1562, a Turkish census counted 63 Christian families, 8 Christian single men, and 8 Muslim families.
As the population grew, the city attracted missionaries and in 1807 the first Greek Orthodox Church was built, and in 1869, the Friends Girls School was established by the Quakers.
In 1902, Ramallah was converted into a governorate by the Ottoman government, and it included thirty surrounding towns. Ahmad Murad, a prominent official from Jerusalem, was appointed as its first governor (administrator). In 1908, Ramallah was acknowledged as a city, and Elias Odeh was appointed as the first mayor, while the municipal council included a representative from each clan.
Established in 1908, the Ramallah Municipality has been serving the city's residents for over a century. In this time, the city has weathered multiple wars, witnessed rapid economic progress, and become a cultural capital in Palestine. The municipality's countless projects and initiatives have helped transform the ancient city into the busting, metropolitan hub it is today.
The following key dates present a picture of the way Ramallah has grown, changed, and overcome throughout the years:
1550 – Rashed Al-Haddadin settles with his family in Ramallah
1902 – The Ottoman authorities change Ramallah to a governorate, which included thirty surrounding towns. Ahmad Murad, from Jerusalem, is appointed as its first Governor (administrator). Ahmad Murad carried out several civil reforms
1908 – Ramallah is designated a city, and Elias Odeh is appointed as the first mayor, while Ibrahim Qassis is appointed secretary and treasurer. The municipal council included a representative of each clan
1917 – The British forces occupy Ramallah on the 27th of December. Ramallah and the rest of Palestinian cities submit to the British mandate from 1918 to 1948
1948 – 1948 marks the 'nakba' or 'catastrophe' as Israel declares itself a state and hundreds of thousands of Palestinian are expelled from their homes. Thousands of refugees displaced from their towns pour into the city and the population of Ramallah more than doubles.
1967 – Ramallah and the rest of the Palestinian cities in the West Bank and the Gaza Strip fall under Israeli occupation
1972 – The first elections of the Ramallah municipal council following the Israeli occupation are held
1987 – The start of the first Intifada against the Israeli occupation
1994 – The Palestinian Authority is formed following the Oslo Accords as a five-year interim government
2000 – The second Intifada begins in September
1995 – The Palestinian Authority establishes its headquarters in Ramallah
1999 – The first municipal council to be appointed by the Palestinian National Authority is presided over by the late Dr. IssaZiyadeh
2002 – Late President Yasser Arafat is besieged in his headquarters at Al-Muqata'a, and the occupation forces overrun the entire city
2004 – President Yasser Arafat dies, and hundreds of thousands head to Ramallah to bid him farewell. His remains are buried in the city
2006 – Janet Michael becomes the first female mayor of Ramallah
2008 – The Ramallah Municipality celebrates its centennial anniversary, and launches the Ramallah Municipality centennial project
2012 – Engineer Musa Hadid is elected mayor
2014 – The 56th Expatriate Ramallahites convention is held in Ramallah for the first time with over 2,000 attendees
2017 – Ramallah holds elections and re-elects Eng. Musa Hadid