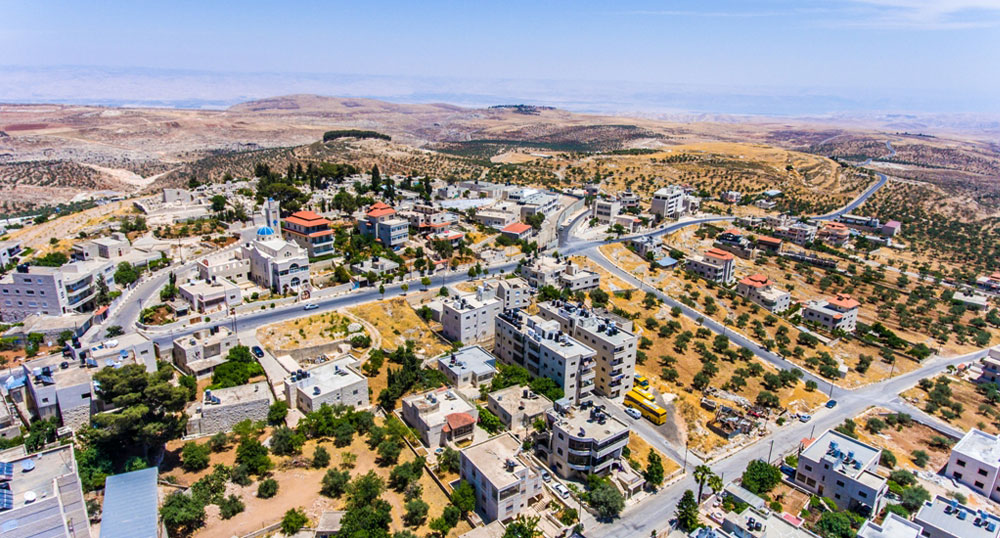 On the eastern foothills of the Palestinian mountains, on a hill 915 meters above sea levellies Al-Taybeh. Al-Taybeh is a Palestinian town with a fascinating view over the Jordan Valley and a horizon which shows the lights of Amman to the east, Jerusalem lights to the west and the blueness of the Dead Sea to the south during the day. All of these views make one remarkable landscape that surrounds the town with its green hills. The surrounding hills are covered with olive trees, which spread all the way to the edges of the stone houses, whereas the old city tops the hills and the church bells emerge from the center of the town.
"Aphram" is the name given to it in the Holy Bible. The town is known for its authenticity and deep-rootedness. By visiting the archeological sites of Al-Taybeh, one can explore its interesting history and the lively culture of its residents, as well as its moderate weather and fascinating nature. The most important milestone of Al-Taybeh is the ancient St. George Church, which is an antiquity site that dates back to the fourth century A.D. The site contains several mosaics, historic columns and carvings through which the visitors can learn about Al-Taybeh's unique and vibrant church traditions until this very day.
In the Old City of Al-Taybeh, one can visit the walls of a Crusader fortress where Frankish leaders would administer the area during the Crusader period. One can also see the old wall which used to surround the town, as well as the archway through which people pass to the Old City. This is known as "Christ's Alley", and the local tradition mentions that it was built on the point through which Jesus Christ entered the town when he visited it. Visitors of the Old City can also enjoy the unique architectural art of tall structures, historic houses, staircases and alleys which together form the portrait of a beautiful Palestinian village.
Al-Taybeh also has a number of walking trails which take the travelers on a journey to its fertile valleys, vineyards and hills which contain a breathtaking nature and are fun to explore. There are also several facilities, restaurants and hotels which provide visitors with comfort, relaxation and the enjoyment of authentic Palestinian hospitality.
Al-Taybeh awaits you for a unique and unforgettable experience in a very charming spot in Palestine.